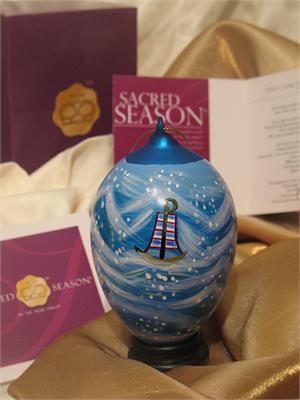 This design reminds us of the famous miracle story when Jesus calmed the stormy sea.
Jesus slept soundly below he deck of a boat while His disciples became terrified of the raging storm. Peter rushed down to wake Jesus, Who was astounded by His disciples' lack of faith.
He stood on the bow of the boat and commanded the sea: "Peace! Be still!" Immediately -- the storm ceased -- to the amazement of the disciples. Jesus asked them: "Why are you so terrified? Do you not yet have faith?" (Mark -- Chapter 4)
Throughout our lives, there are times when we must sail through life's rough waters. How wonderful to know that Jesus is always "in our boat" and will guide us safely through stormy weather.
Gift Box, Display Stand & Inspirational Message Card included.
4" tall "Egg" -- Individually hand-painted on mouth-blown glass
"Signed" with the SACRED SEASON Registered Trademark & Copyright.
© 2001 SACRED SEASON ® All Rights Reserved.
Bidding Starts at $10
Increments of $2
Donated by 4Gloriousgifts.com