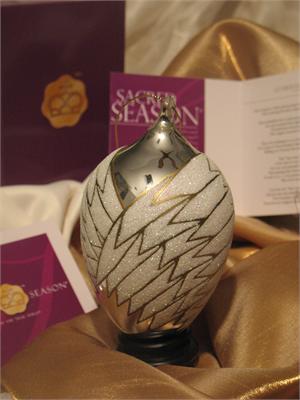 Here is the complete text on the Inspirational Message Card included with this design:
Holy Scripture is filled with accounts of God's Angels doing His bidding
And conveying His will to those who were willing to listen.
How remarkable that so many people throughout Holy Scripture
Not only accepted that Angels existed -- but followed
The directions and accepted the invitations
That Angels conveyed on behalf of the Lord.
That is the challenge to us, in this hectic and cynical world --
To be aware of those instances when God's Angels are among us --
Bidding us to become the Lord's instruments on earth.
That "tiny voice" in our hearts
Is the voice of our Guardian Angel --
Our very own personal messenger from God.
How amazing that God assigned a special Angel
To each of us -- a very personal "Body & Soul Guard" --
Who never leaves our side!
Look into the "silver mirror" finish on this egg
And see your own reflection. . . .And then remember:
Your Guardian Angel's beautiful wings of
Protection are wrapped around you at this very moment!
Gift Box, Display Stand & Inspirational Message Card included.
4" tall "Egg" -- Individually hand-painted on mouth-blown glass
"Signed" with the SACRED SEASON Registered Trademark & Copyright.
© 2004 SACRED SEASON ® All Rights Reserved.
Donated by Mary Margaret
Bidding starts at $10
Increments of $2