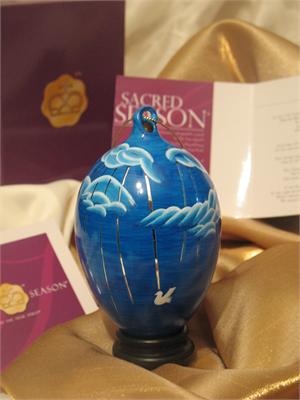 In the 13th Century, St. Richard of Chichester wrote:
"Day by Day -- O Lord -- Three things I pray:
To see Thee more clearly,
Love Thee more dearly,
Follow Thee more nearly,
Day by Day."
Each day, all of life is filled with the mysteries
Of the universe and the glories of God's creation.
This design represents the Mystery of the Trinity,
One of the central beliefs in Christianity.
The Clouds represent God the Creator;
The Streaming Sunlight, Jesus;
The snow white Dove, The Holy Spirit.
If we keep our hearts and minds open
To the signs & wonders God has poured into our life,
While embracing "Mystery" as a beautiful Gift,
We cannot help but grow closer to God --
"Day by Day".
Gift Box, Display Stand & Inspirational Message Card included.
4" egg -- Individually hand painted on mouth blown glass
"Signed" with the SACRED SEASON® Registered Trademark & copyright.
©2001 SACRED SEASON® All Rights Reserved.
Bidding starts at $10
Bidding increments $2