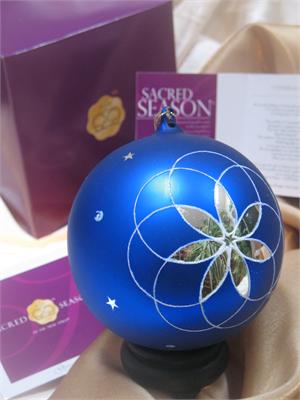 We are all children of God and we belong to just one race -- the human race.
It is within our power, both individually and collectively --
To bring peace to the world, one person at a time.
This symbol of Universal Peace features a 7-pointed star --
Designed to appeal to people of all nations and faiths.
The star's light radiates from seven concentric circles --
Representing the 7 continents of the earth.
The center of the star represents the Light of God's Love and Peace,
Reflecting light in its silver mirror finish.
As we gaze into its center, and see our own reflections,
We are reminded, too, that Peace must being in our own hearts --
And that we are called to let the Light of Peace
Shine out to the world every day of our lives.
Let us give the gift of Peace to all God's people -- wherever they may live.
Let us be gentle with God's earth -- Let us care for all God's creatures.
Let us bring Peace to all God's creation.
May the Light of Peace -- God's Peace -- be our guiding light in all we say and do.
One People. One Earth. One God. One Peace. ™
Gift Box, Display Stand & Inspirational Message Card Included .
4 ½ " Globe -- Individually hand-painted on mouth-blown glass.
"Signed" with the SACRED SEASON Registered Trademark & Copyright.
© 2002--2007 SACRED SEASON ® All Rights Reserved.
Increments in minimum of $2